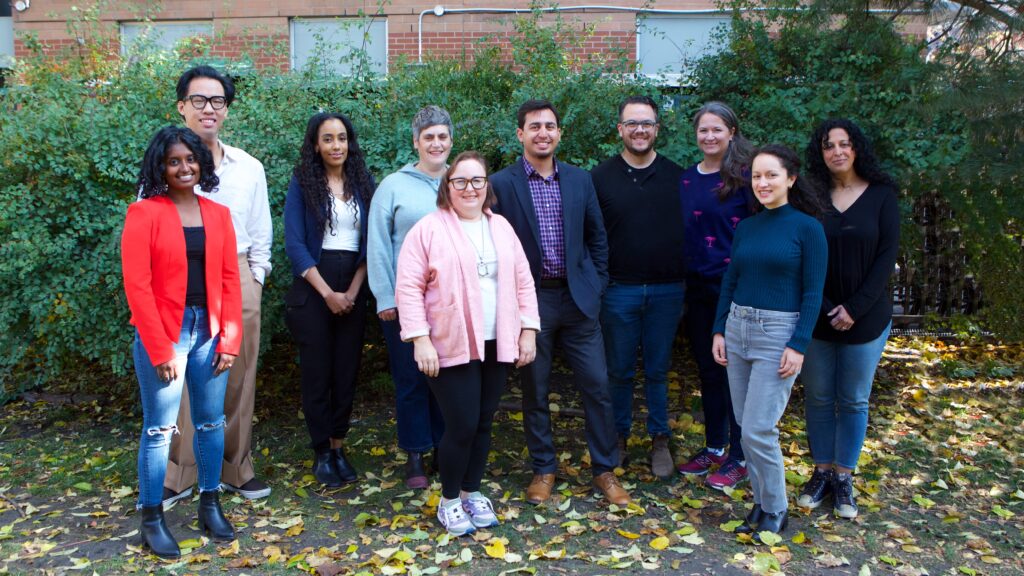 From left to right: Aparna Kajenthira, Mathew Cheng, Bella Bereket, Emily Hill, Rebecca Ho, Arman Hamidian, Mike Wilson, Shelley Darling, Jen Quito and Rishma Pradhan. Missing are Khadija Nakhuda, and Kristen Yee-Joshi.
At the June 22, 2022, Annual General Meeting (AGM), SRCHC members voted to elect the 2022/2023 Board of Directors. This year, three new members joined the Board and an appointed member was confirmed by election at the AGM.
Bella Bereket is a first-generation Eritrean Canadian who currently works as a registered nurse in a critical care unit. She has a Bachelor of Science in both Kinesiology and Nursing from York University and recently completed a research study that examined migration and critical health. She grew up serving as an Eritrean Tewahdo Church youth leader, mentoring Eritrean youth. Bella has lived in the local area for over 10 years.
Matthew Cheng has lived in the local area for over 16 years and is a second-generation Canadian from Hong Kong. He has a Bachelor of Science in Kinesiology & Health Sciences from York University and completed his Juris Doctor at the University of Windsor. While at the University of Windsor, he participated in a mental health justice clinic. Collaborating with the Empowerment Council, he led a Pro Bono Students Canada project on family planning for adults with disabilities and was a worker at the trans ID clinic. He also externed at the HIV Legal Network, developing legal resources on harm reduction and human rights for pregnant people and parents who use drugs.
Arman Hamidian is the son of Iranian refugees, something that was vital in shaping his equity lens and fueling his interest in examining the social determinants of health. He has held research and program manager roles pertaining to health equity, worked on affordable housing projects in SE Health and as a policy researcher for the Wellesley Institute, and was a Board chair for Access Alliance for three years. He has also worked as a policy advisor for different ministers' offices in the Ontario government, and completed his Masters of Public Policy, Administration, and Law at York University. Arman currently works as a health policy and strategy consultant at Santis Health.
Rishma Pradhan is of South Asian via East Africa descent and grew up in Montreal. After her lived experience of being a caregiver to her father through his battle with cancer, Rishma shifted her career from the oil and gas sector to health care so that she could help solve challenges within the health care system and contribute to health system transformation. Drawing on her Master of Business Administration degree and her current studies in the Master of Health Science program at the Institute of Health Policy, Management and Evaluation, she is passionate about policy, innovation, and transformation, supporting sustainable results across the health system. Currently, she is expanding her experience by focusing on developing a deeper understanding of health care service delivery at the acute care and community level.
Existing SRCHC Board of Directors, 2022-2023:
Shelley Darling, Emily Hill, Rebecca Ho, Aparna Kajenthira, Khadija Nakhuda, Jen Quito, Mike Wilson and Kristen Yee Joshi
Additional information about the SRCHC Board can be found at https://www.srchc.ca/our-community/board-of-directors/