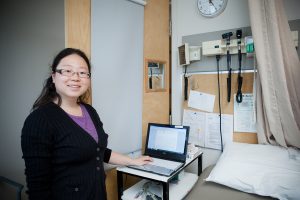 BEING FULLY ELECTRONIC MEANS:
There are NO paper charts for clients. All your information – clinical notes, referrals, correspondence and other documents are scanned and stored in your Electronic Client Record (ECR).
We will use a standardized process for booking appointments, checking you in when you arrive for an appointment etc.
WHAT DOES THIS MEAN FOR YOU?:
May 17-23 we will transition to our new electronic client record software.
During this time :
We will be able to book same day appointments
We will ask you to call back if you want to book appointments for later in May/June
For the first couple of weeks after we  start using the new ECR:
You may have longer wait times for routine appointments.
We will have more same day appointments available during this time.
The new ECR – PS Suite should be up & running by Wednesday May 23, 2018
If you have questions please do not hesitate to speak to any of the medical reception staff on the 2nd floor.