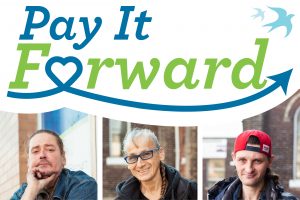 The Pay It Forward fundraising campaign was launched to provide our most marginalized clients with winter supplies and clothing.  
Due to COVID-19, most programs and drop-ins have closed. This winter, people living on the streets have nowhere to go to stay warm and no access to free hot meals. Many of our clients and volunteers live on fixed incomes. More than 50% of our clients live on $25,000/year or less. According to the Toronto Foundation, approximately 30% of people in Toronto are struggling to pay for essentials like rent, food and utilities. The idea behind Pay It Forward is to recognize the involvement of those of our clients who have been volunteers with the Centre's programs (such as community clean-ups, markets, etc.), and to urge those who can to donate and "pay it forward."
Between 2013 and 2018, the number of people using Toronto shelters increased by 69% (from 4,806 to 8,134). Some people are waiting for weeks to get into shelters and others are avoiding them, fearful of catching the virus in congregate settings.
The Fallout Report (published by the Toronto Foundation in late-2020) reported that the city's shelter system was operating at capacity and approximately 2,000 people were living in outdoor encampments. Many people choose to live outdoors due to COVID-19 because they feel it is safer than congregate living settings.
In East Toronto, we know that there are significant health and social disparities among our 300,000 residents and 21 different neighbourhoods. Over the past year, we have seen people come together to support one another in ways we have never seen before. This crisis is not yet over and will impact many people for years to come
For more information or if you would like to donate, click here.