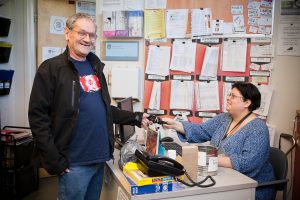 keepSIX, SRCHC's supervised consumption service (SCS) at our 955 Queen St. E. location, has been open for a year and a half. In July, 2018, SRCHC also began operating the Moss Park Overdose Prevention Site (OPS) at a stand-alone location on Sherbourne St., just south of Queen. SRCHC operates two of the six consumption services in east Toronto. These services have had over 13,000 visits and have reversed 270 overdoses (the vast majority at Moss Park).  As if this life saving work were not enough, the dedicated teams (overdose response workers, nurses, and community health workers/health promoters) at each location provide counseling and crisis support, health care, referrals, their lived experience and expertise on safer use techniques and a vital space for safety and community. The team shares responsibility for maintaining the flow and safety of these services, including responding to overdoses.
What's A Typical Day at keepSIX? Here's a Glimpse:
Opening
keepSIX opens at 9:30 and the first service users arrive shortly after. Staff have already been getting things set up for the day: preparing syringes of naloxone, checking the oxygen monitoring equipment and making coffee.
Morning
The first visit of the day is Bob.*  Bob was also the first person to use at keepSIX and comes every morning. Although he has his own place, he comes to the SCS because he doesn't feel judged for his drug use here and knows that he'll be taken care of if something goes wrong. Bob is a service user rep on the community liaison committee, made up of a range of community members, which meets every two months or as- necessary. He reports that the last meeting was good, there are no major community concerns and everyone seems really positive, eager to help and supportive.
Mid-morning
One of our health promoters is at Moss Park OPS to provide an Indigenous sharing circle to support service users. Both keepSIX and Moss Park see a large proportion (between 30-55%) of Indigenous clients. Having access to these kinds of cultural practices in harm reduction spaces is vital.
Mid-day
By noon, keepSIX has had 20 people use the service. Visits to the SCS have doubled in recent months, as have overdoses.
Afternoon
An SCS staff-person notices that the person at booth two has slouched over and breaths appear infrequent. Other team members are called to help with the assessment. Everyone agrees that we should monitor the person's oxygen levels with the pulse oximeter. Levels are low so the oxygen tank is brought over. The harm reduction worker holds the oxygen mask in place while the health promoter keeps track of vital signs. Providing oxygen is almost always the first step in providing overdose care and, in this case, is enough to support respirations until the service user is able to be roused 20 minutes later. The service user heads into the chill space for a snack and to chat with the harm reduction worker who will continue to assess for any signs of distress.
Late afternoon/evening
Toward the end of the day, Bernadette, SRCHC's Hep C treatment nurse, stops by to offer rapid hepatitis C testing to service users. A service user comes in, ready to try detox. The nurse starts making phone calls and is able to find a treatment spot after several tries. We give the service user a taxi chit to ensure transportation. Meanwhile, the health promoter is providing some informal counselling to someone who recently learned they have HIV and tells them about community resources they can access.
Closing
By the end of the day, there have been 40 visitors. A day in this service can be stressful and hard, but it is just as often a positive and happy space where people find community, safety and a brief break from the war on drug users.
*Name changed to protect privacy.