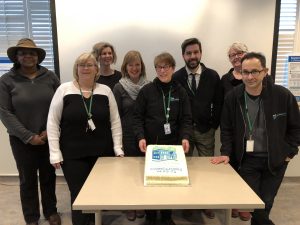 STRATEGIC DIRECTION: Strengthen Organizational Capacity
Accreditation provides an external review of an organization's operations in relation to accepted standards of good practice and risk management. SRCHC worked with the Canadian Centre for Accreditation (CCA) to conduct a detailed review of our governance practices, operational management, and program and service delivery. We worked for over a year preparing documents, conducting a staff survey and organizing interview teams (Board, staff, clients and volunteers) and preparing for the site visit on February 12-14, 2019.
The final report from CCA appreciated the work undertaken by SRCHC and highlighted the welcome they received here. In their verbal wrap-up, the accreditation team praised the organization as a centre of excellence that lives its mission, vision and values. In particular, the team highlighted the work the organization has done to support clients and improve health outcomes. The final report comments on "The level of client engagement and how it led to innovative co-designed programming that valued and leveraged the client and staff lived experience for the benefit of the community."
The team also highlighted the organization's commitment to quality programs, continuous improvement and research. They stressed that "SRCHC has a strong tradition of not only generating research evidence but of also using evidence-informed and evidence-based research throughout its programs and services."
The CCA congratulated the agency on achieving 79 of 79 standards and has accredited South Riverdale Community Centre for a four-year term. SRCHC thanks the CCA review team and everyone who supported this external review that allows us to tell our community's story with clarity and confidence.