About us
Harmony Community Food Centre (CFC), a program of South Riverdale Community Health Centre, in partnership with Community Food Centres Canada, is a welcoming place where people to come together to grow, cook, share and advocate for good food. We believe that an equitable and just community is one where everyone can access nutritious, affordable, safe, culturally relevant, and delicious food. Harmony Community Food Centre offers programs in three core areas: Healthy food access, healthy food skills, education and engagement.
Harmony CFC programs support local families and individuals by increasing access to healthy food, skill-building, knowledge sharing, and providing leadership and advocacy opportunities for those of all ages.
Where to find us
Harmony CFC is located at 2 Gower St in East York, Toronto. Our programs serve the diverse communities in our surrounding area.
The national movement
Harmony CFC is a proud partner site of Community Food Centres Canada, a national non-profit that builds health, belonging, and social justice in communities through the power of food. Harmony CFC is part of a national movement calling for a more equitable and sustainable food system.
HARMONY COMMUNITY FOOD CENTRE PROGRAMS
*Please note that due to the COVID-19 pandemic, some programs are on pause or modified. We currently are not running any indoor programs. Please contact us for program updates.
Upcoming Events
Harmony Good Food Market
Every Tuesday starting June 7 and ending October 25 (for more information click here)
Time: 3-5pm
Location: 2 Gower Street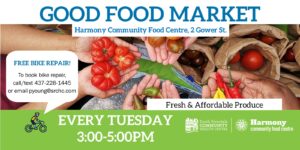 Drop-In Programs
Weekly drop-in community meal – Every Wednesday from 3-5pm
Weekly seasonal Harmony Good Food Market – CLOSED FOR THE SEASON, SEE YOU IN THE SPRING 2022
Garden Programs
Donate to our program
If you would like to support our programs with a donation, you can do so online or by cheque:
Donate now